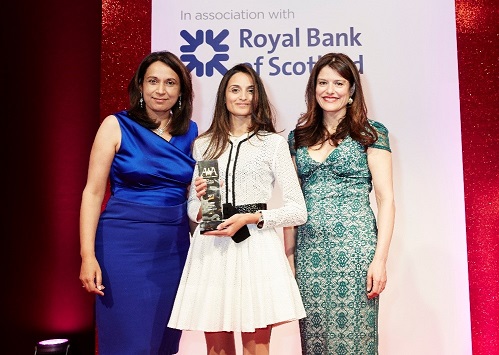 From L-R; Ruby McGregor-Smith, Farzana Baduel, Miriam González Durántez
The Managing Director and Founder of Curzon PR, Farzana Baduel, has been awarded the Entrepreneur of the Year Award at the Asian Women of Achievement Awards 2015 held at the London Hilton Park Lane on Tuesday 19 May.
The award recognises women who have set up and grown their own businesses whilst overcoming the risks of establishing their own venture and who have shown the ambition, energy, skill and vision to scale further heights.
Farzana was presented the award by Miriam González Durántez, partner of international legal practice Dechert and Ruby McGregor-Smith, CEO of Mitie Group. The judges' said that "[Farzana] has a clear strategic vision and strong, all-round, people skills. The panel said they wouldn't hesitate to invest in her."
The Entrepreneur of the Year Award is the second accolade Baduel has received in the past 12 months. She was previously awarded the Media Professional of the Year at the 2014 Asian Media Awards and was shortlisted for Businesswoman of the Year at the 2014 British Muslim Awards.
Baduel has been at the helm of Curzon PR since she founded the firm in 2009 and has grown the company into a leading media agency with arts and cultural institutions, international government projects and NYSE-listed companies as clients. Farzana has recently overseen a period of rapid international expansion and Curzon PR's Dubai office opened in May 2015 with the New York office having opened in January 2015.
"It is an honour to receive this award, starting Curzon PR six years ago at the height of the recession was a significant gamble and growing the company has been a true labour of love. It is a pleasure to see my goal, of building a strategic, international and results based public relations and communications agency, recognised," says Farzana Baduel. "I am particularly proud to be given this award by an organisation that does such excellent work in recognising the achievements of Britain's Asian women."
Farzana contributes to media outlets including BBC, Business Today, The Guardian, Al Jazeera and Management Today on subjects including diversity in the creative industries and cultural diplomacy. She is also on the board of CARE Pakistan, Pakistan's biggest NGO providing free education to over 175,000 children across Pakistan.
For interview requests, high-resolution images and further information please contact:
e: info@curzonpr.com | w: curzonpr.com