London Media Relations Agency
Our understanding of the media is intimate and far-reaching.
There is no alternative.
With more than a decade of experience working with leading media and political organisations, nationally and internationally - our expert media relations team, which compromise former-journalists from top-tier publications, will ensure that your message is clearly communicated to the right audience in the right way.
Our Media Relations services include:
Devising a Media Plan
Developing Press Releases
Global Media Outreach
Managing Press Trips
Davos 2015
Conference
Offering an unparalleled awareness and insight into media relations, we have built relationships with regional, national and international press. We build positive relationships between brands and audiences by allowing your audience to find you organically. From broadsheets to broadcast, online to on-air, we have an established track record of securing top-tier coverage in both sector-specific and mainstream publications. We do not believe that one-size-fits-all, so we go out of our way to make your brand visible in the right places that are unique to your story and industry.
Media Relations Guide
WHAT IS MEDIA RELATIONS?
Media relations essentially involves liaising with the media in order to inform the public of their client's practices, achievements, mission, policies and sometimes even their very existence. Media relations differs from the more direct forms of advertising and marketing because it is more focused upon gaining third party endorsements of your brand's products and services and then having that third party (usually a journalist) disseminate this endorsement to the public.
As opposed to more direct forms of communications, such as advertising or direct marketing, communicating through a journalist provides valuable and sought-after credibility that other forms of communications cannot match.
Though it is more credible than an advertisement or a brochure, getting your message across through the media is much more challenging.
The challenges of liaising with the media are in knowing what the media want, and in helping them to present images, ideas and information accurately and fairly. The news media can't be controlled – they have the ultimate control over whether the news angle you put to them is of interest to them, and in turn, to their audience. This is where our expertise lies and we are able to create strategic plans on how to get the media interested in featuring your brand.
Media activity should be part of your communications strategy, which should be directed at a specific audience. This, of course, requires a clear understanding of your organization's mission, including its sales and marketing objectives. The following factors also shape the media relations function:
The type of organization

If whether the organization is from the public or the private sector

Potential media interest in your products and services

Potential media and investor interest in your corporate performance

Your senior management's expectations of the media relations role

HOW DOES MEDIA RELATIONS BENEFIT YOUR BRAND?
One of the key reasons why having good media relations is important from a business perspective is because having third party endorsements of is a more effective in establishing a reputation for whatever you are trying to sell to the public. This is because an integral part of gaining press coverage for a media relations campaign is ensuring that your message is something that the public would find interesting enough to be the focus of a newspaper or magazine article or feature.
Media relations is also important for press coverage of your brand. This gets your brand's name out into the public consciousness and informs consumers of your brand's products, services, mission and identity through media channels that they trust and have chosen to consume.
One important aspect of media relations is maintaining long term relationships with journalist and media publications and maintaining these long term relationships can offer several advantages to a brand. These are the relationships that that Curzon PR has built.
The two main advantages of media coverage over advertising are:
There is more credibility in positive media coverage than with paid advertising due to the implied third-party endorsement of the journalist or quoted person.
The cost of coverage in the news media is substantially lower than the cost of advertising
Positive publicity, through the implied third-party endorsement of the journalist or a quoted source, can strengthen the credibility of your brand.

THE PROCESS-STAGES AND TIMELINES
Month 1
We will have a strategy session with you discuss your brand's products and services, who your target audience is and during this session we would ask you questions about your brand and any plans or interesting things that you may be doing which could give us ideas for angle which we would pitch to the press. We would produce a quarterly plan for with:
Key objectives
Method and Target Audience
Brand Identity
Key Performance Indicators
Media Angles and Timeline
Agency Comments
Month 2
We would use your chosen angles to create weekly pitch to the relevant press. We would keep you informed of any interest in featuring your brand from any relevant media leads. At this stage the press will ask for further information from you about your brand. This make come in the form of an interview or a questionnaire. We will then prepare a press release, which we would then send to you for your approval. Once approved we would send this out to the lead. Your review will comprise of:
Media Relations-Brief
KPIs
Angles
Coverage
Leads
Agency Comments
Month 3
We would continuously pitch using the angles in the media plan and continue to land you coverage. We would also we continuously monitoring the media for any coverage that comes out, and send this to you immediately for uploading on the press section of your website. At the end of these three months we would create a review for you, summarising the activity and coverage achieved for your brand.
Month 4 – Month 12
We would continue to create quarterly plans and quarterly reviews. At the end of every quarter we will have a meeting with you to go through the review of your account activity and the plan for the next 3 months. In the final month of your campaign we will evaluate your campaign and send you an end of project report.

HOW DO WE MEASURE SUCCESS?
Quantity of press coverage
Quality and relevance of press coverage
Circulation & readership of press coverage
Journalist meetings and strategic introductions
Sentiment and tone of press coverage
Increase in Member enquiries and conversion
Key message tracking
Competitor benchmarking
DELIVERABLES
You will receive:
Quarterly plans –

these will outline the angels that will be used to pitch you brand to the press

Quarterly Reviews –

these will have a summary of the coverage you have received with details of the reader reach and KPI points

Press clippings –

Immediate updates on any coverage featuring your brand

Bi-monthly reports -these

will have the summary of the activity on your account

End of project report –

this will have the details of your campaign with the details of the coverage achieved
At Curzon we work on KPIs which are determined by the tier of publication we get your brand featured in as well as how relevant the publication is to industry of your brand.
Our KPIs are set per quarter, as you have to bear in mind that there is a process to be followed i.e. research into you brand, industry and its competitors, creating a quarterly media plan pitching to press, writing a press release, approvals, securing coverage and finally the article being featured.
We have a target-driven media relations approach at Curzon for every campaign.
Our bespoke system of determining the value of media coverage is crucial when planning long-term strategy and defining deliverable goals for each one of our clients.
Our principles effectively measure and evaluate the value of communications, enabling our clients to clearly objectify their ROI. Curzon's established media points system draws on metrics, analysis and our expertise to calculate the success of every media relations campaign we spearhead by awarding points to each piece of editorial coverage achieved. We believe this is a transparent and effective strategy to quantify our own PR efforts, ensure quality control and deliverable results for our clients.
We have defined our press coverage targets according to territories and client service levels.
Media publications with a higher number of points have a greater editorial coverage value.
Value is determined by a range of factors including: Circulation, Readership and Influence.
What are the Key Performance Indicators?
Please consider the below as examples of target publications.
Specific media targets relevant to your sector will be determined in our strategy session once you are our client.
Curzon will work alongside you to define realistic targets that contribute to your key objectives.
FOR EXAMPLE: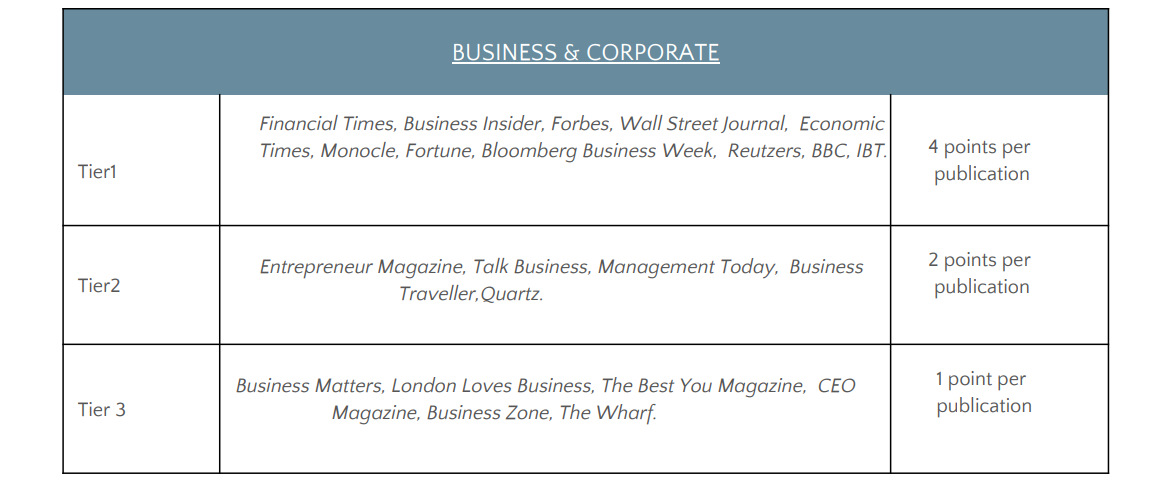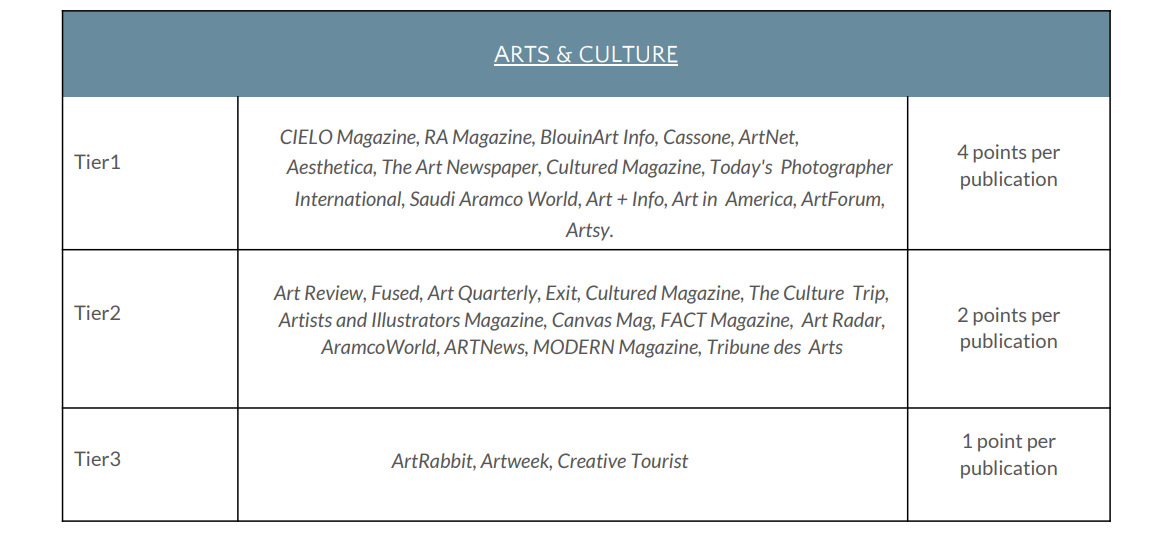 Unfortunately not as there are multiple factors which determine the ability to secure press.
Some of which are in our control, others beyond our control and even some factors which are in the control of our clients.
There are 6 main factors contributing to securing press:
1. Editorial decision making and agenda setting by the media outlets.
We do NOT have control over this.
2. Newsworthy client activity and existing client brand equity.
We do NOT have control over this. For e.g. results are often more sluggish when there has been no previous investment in media relations.
3. Relationships and contacts with the top tier media.
We DO have control over this. We have top tier former journalists on our team and a global media database.
4. Ability to extract from the client relevant and timely information which can be used as a basis of pitching angles.
We DO have control over this. With a team of former journalists we know the angles that would interest journalists. This is also one area where the client exerts influence over the results with their ability to feed us timely and relevant information at regular intervals.
5. Experience and proven track record in securing top tier press.
We DO have control over this. We have a proven track record with securing press. Our projects are headed by media professionals with experience ranging from 10-20 years.
6. Client response times to media enquiries.
FAQs
1. Can I refuse to pay if I do not get any press coverage or you do not meet the average agency media coverage KPIs?
No. Our fees are based upon time and expertise of the professionals working on your account. The level of monthly fee you pay determines the agency time that is allocated on a monthly basis. Different levels of seniority in the team have varying hourly rates and we work to ensure the right blend of expertise is allocated for maximum efficiency. For e.g. our strategy is carried out by a more senior member of the team than the junior member of the team who collates press clippings.
A media relations campaign delivers more than just press coverage, it also provides the press kits, strategy, key messaging, plans and building awareness amongst the press on behalf of our client. It builds the foundations that are needed to achieve media coverage which in turn brings awareness, creditability and brand positioning.
These press coverage KPIs are for internal use and quality assurance. They do not form part of your contract with us. It is a basic benchmark we use to monitor our results against average results. Please note that the actual results may be less or more than these targets due to the 6 factors outlined above. We analyse any shortfalls from our average results in our reviews and end of project reports and list the reasons for future learnings.
Unfortunately not as there are multiple factors which determine the ability to secure press. Some of which are in our control, others beyond our control and even some factors which are in the control of our clients.
2. What if I cannot take the financial risk of paying for a media relations campaign without guarantees of press coverage?
You can choose advertising instead, however it is deemed less cost effective and does not help build a brand like editorial press coverage due to the public trust in third party endorsement.
WHAT IS THE COST?
All our projects are bespoke and priced accordingly. You can get further information on prices by contacting our Joga Sangha from our business development team, joga@curzonpr.com or on T: +44 (0)20 3637 4830
FURTHER READING
You can read more about Media Relations in our PR Insider Blogs