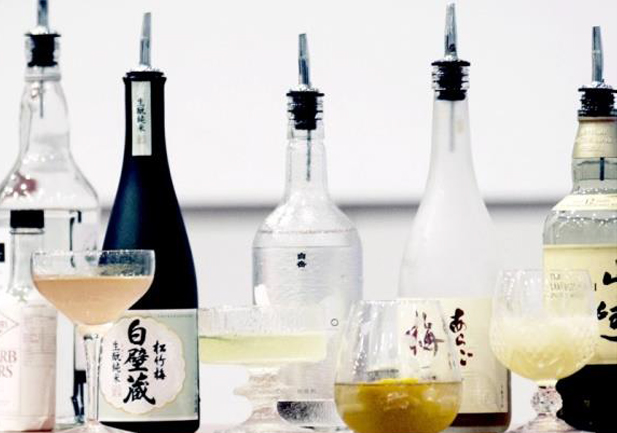 HYPER JAPAN Christmas Market 2015 will be hosting their first ever three-day Sake Cocktail Awards 2015 for sake enthusiasts and first timers to choose their favourite cocktail creations.
In this year's Christmas Market, visitors will be able to try nine types of sake-based cocktails from leading mixologists. The mixologists will create a sake cocktail and compete against each other. They will then be judged by an expected 1500 visitors who will sample their creations, and a winner will be crowned at the end of each day.
Sake has been enjoyed in Japan for thousands of years, and is an indispensable part of Japanese life and culture to this day. Outside of Japan, chefs and mixologists are experimenting with mixing different types of sakes (from Junmai to Daiginjo) with western flavours. Looking at sake from a sommelier's point of view – with special attention to provenance, storage, and vessel-use is on point, but most importanly – mixologists are starting to use it as a fresh, new cocktail base.
Oliver Hilton-Johnson, Director and Sake Specialist of Tengu Sake and Sake Educator for the British Sake Association said: "Whilst the UK consumer is not spoilt for choice when it comes to the selection of alcoholic drinks on offer, few are quite as versatile and rewarding as sake. Which other alcoholic drink can be both cool and refreshing as well as warm and invigorating? Great with sushi but also cheese?"
Speaking about the upcoming Sake Cocktail Awards 2015 he said: "HYPER JAPAN will allow visitors to try sake in a familiar environment by sampling a variety of amazing sake cocktails."
Some of the mixologists participating this year are from critically acclaimed London restaurants including Chotto-Matte, Matsuri St James's, STICKS 'N' SUSHI, The Westbury Hotel, WAZEN, and Yashin Ocean House. The list of participants even includes the founder of cocktail caterer Kampai Cocktails.
Visitors can also purchase the sake used by the participating mixologists at HYPER JAPAN's sake shop, just next to the awards area. The sakes on sale are being provided by the Sake Cocktail Awards sponsors Gekkeikan Sake, Ozeki, and Shirakabegura, amongst other sake brands.
HYPER JAPAN Christmas Market 2015 will be taking place from Friday 27 November 2015 to Sunday 29 November 2015 at Tobacco Dock London. The Sake Cocktail Awards will be taking place on every day.