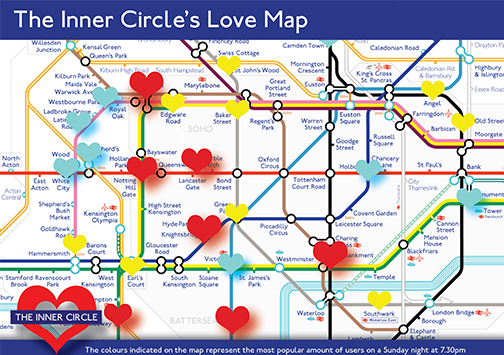 London is a big city. We were wondering where London's hotspots or should we say lovespots were at peak times based on where Inner Circle high society hang out.
Latest data provided by The Inner Circle showed us an insight into their database of members whose location are traceable via The Inner Circle app. Surprisingly, Victoria and Holborn were quite cool on the love thermometer, with Notting Hill and Knightsbridge in the top 6 spots brimming with fast-beating hearts. Does Harvey Nics or Julia Roberts have anything to do with it? That's for you to decide. Here are the top 6 spots where The Inner Circle members like to hang out on a Sunday evening at 7:30pm, which is the time when members are most active on the Inner Circle app.
1. Notting Hill (1,024 members)
2. Leicester Square (948 members)
3. Haggerston (846 members)
As is clear from the love map, the majority of users like to spend their time in West London, however some parts of East London like Angel, and the biggest surprise of all HAGGERSTON are way up on the love thermometer! Embankment is understandable for its beautiful romantic views, Knightsbridge for its shopping and great restaurants, and Fulham isn't a surprise if you watch Made in Chelsea. To have Haggerston, though, as the second most popular place to be for affluent singles is the biggest revelation from Inner Circle's data.
To conclude, watch your steps next Sunday night if you want to find your match – turns out location matters.The Inner Circle is available online and through a dedicated app on iPhone, Apple Watch and Android. The Inner Circle's invitation-only user base is comprised of over 12,000 members in London and 65,000 across Europe.
www.theinnercircle.co
Notes for Editors:
About The Inner Circle
The Inner Circle is an exclusive dating website aimed at successful, attractive and ambitious singles with over 12,000 members in London and over 65,000 internationally. The Inner Circle has networks in Amsterdam, Barcelona, London, Milan, Paris and Stockholm and hosts exclusive parties at glamorous locations worldwide.
The Inner Circle is one of the most exclusive dating platforms to arrive on the London dating scene. The website and app caters to some of the capitals most successful and high flying singles. The Inner Circle is a vibrant network for like-minded individuals and hosts a high end, exclusive community with an impressive following of successful and attractive people.
The Inner Circle won the below awards at the 2014 UK Dating Awards:
-Best Newcomer Website 2014
-Best London Dating Event 2014
www.theinnercircle.co
For interview requests, high-resolution images and further information please contact:
Donnay Clancy | t: +44 (0) 20 3637 4830 | e: donnay@curzonpr.com | w: curzonpr.com