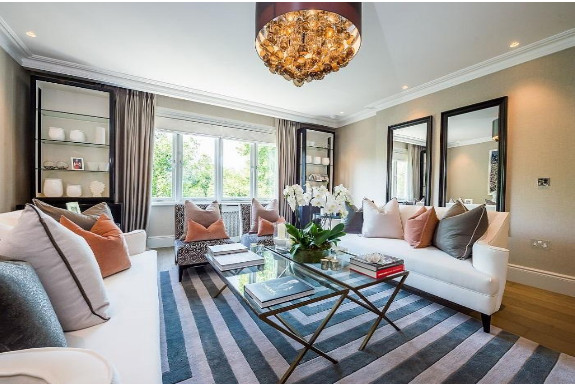 Born of the desire to bring unique luxury to the homes of clients across London, Whitebox London was founded in 2006 by Eroshan Meewella, a leading luxury property developer and Aushi Moonesingh, a leading luxury interior designer.
Director, Eroshan Meewella, and Designer, Aushi Moonesingh, began developing prime properties in Notting Hill, West London, before utilising their market expertise to form Whitebox together. They now help clients source, acquire and transform properties across the UK from Notting Hill to Holland Park to Knightsbridge, and internationally in South Asia.
"With exacting standards that go far beyond the expected, the impossible is often realised"
Their portfolio includes historic grade-listed townhouses, penthouses and apartments, and they specialise in turnkey solutions delivering fully refined and bespoke spaces ready for living. Each detail of a Whitebox home is considered tailor-made and handcrafted to unlock the property's potential and add value. As an owner-driven business, they are committed to working collaboratively at every stage, from concept through to completion in order to help their clients achieve their desired luxury home.
Whitebox maintain their brand of opulence and craftsmanship throughout. Aushi Moonesingh brings her own personal elegance and style into all her projects believing that each client deserves the best because "at the end of the day, it is somebody's home" while Eroshan's designs enhance the inherent character of each property's location and architecture, imperceptibly blending the original with the new.
The firm works with skilled consultants, including architects and structural engineers, to deliver a strong foundation, a sound build and to offer clients access to their vast global network of suppliers and specialist contractors. Whitebox also specialise in providing a luxury, crafted turnkey service, supplying the finest furniture, lighting and finishes to deliver fully refurbished and inspired homes and office spaces.
"To create a unique space that celebrates a client's individuality is what luxury is to us."
Working with only the finest materials and furniture sourced from around the world, Whitebox creates distinct couture finishes – from natural stone to bespoke wall treatments – to compliment the unique architectural character upon which each project is developed.
From their carefully customised lighting systems that highlight each interior's best features to home technology, designed to provide convenience and ease of living, no detail is overlooked.
To Whitebox, true luxury is timeless. The company provides the highest calibre of home living to all their clients around the world.
http://www.whiteboxlondon.com/
About Whitebox
Whitebox London offers expertise to private investors who are seeking to source, acquire and renovate prime residential property for maximum returns. Since its inception, Whitebox has developed properties with a total investment value of £30 million, with an average resale price of 32% above cost – illustrating the effectiveness of their rebuild process and the value they bring to every square foot of development.
From intimate apartments to expansive family houses, each project is carefully crafted to deliver timeless luxury. Whitebox has been dedicated to developing bespoke homes in London's most exclusive enclaves since 2006.
About Eroshan Meewella
Founder of Whitebox, Eroshan Meewella is a leading luxury property developer. He has a cultural and professional understanding of the prime and secondary property markets in London and abroad. Eroshan is an expert in strategy for investors entering UK and Asian property industry.
About Aushi Moonesingh
Founder of Whitebox, Aushi Moonesing is a leading luxury interior designer. Her cultural and professional understanding of the interior design market in London and abroad has led her to become a commentator/advisor on luxury home living