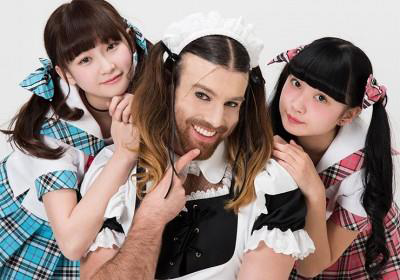 Lady Baby Set to Make European Debut at HYPER JAPAN Christmas Market 2015
Japanese sensation, Lady Baby, will be making their long-awaited European debut on the Live.Japan stage in this year's HYPER JAPAN London Christmas Market 2015.

A rigid blend of turbo J-Pop and Heavy Metal, the self-described "kawaii-death" sensations exploded onto the world stage earlier this year. Their first single "Nippon Manju" has attracted over 9 million views on YouTube and they are set to spread their enigmatic personas to the London public at HYPER JAPAN.
The idol group consists of Rie Kaneko – 17, Rei Kuromiya – 14, and Ladybeard, an Australian professional wrestler and kawaiicore performer who describes himself as a 5-year-old with a beard. Lady Baby's upcoming appearance at HYPER JAPAN will mark their European debut.
Lady Baby said "We are so excited to make our UK and European debut at HYPER JAPAN! We hope all of our cute fans in London will love us, it's such a great city and we can't wait to show everyone kawaii-death. We will DESTROY all borders of gender, nationality, age, culture, rules and everything with singing and dancing!"
It is Ladybeard and Lady Baby who will be the main attraction in the long list of performers due to appear at this year's HYPER JAPAN Christmas Market. Joining them in an all-star round-up is the Rakugo comedy master Katsura Sunshine, beauty and fashion icon MINORI plus many more.
For a full list of performers appearing at HYPER JAPAN click this link.
HYPER JAPAN started in 2010, and this will mark the 9th event in London. HYPER JAPAN festival 2015, the most recent festival, finished successfully in July with tens of thousands of participants.
HYPER JAPAN Christmas Market 2015 will be taking place from Friday 27 November 2015 to Sunday 29 November 2015 at Tobacco Dock London.