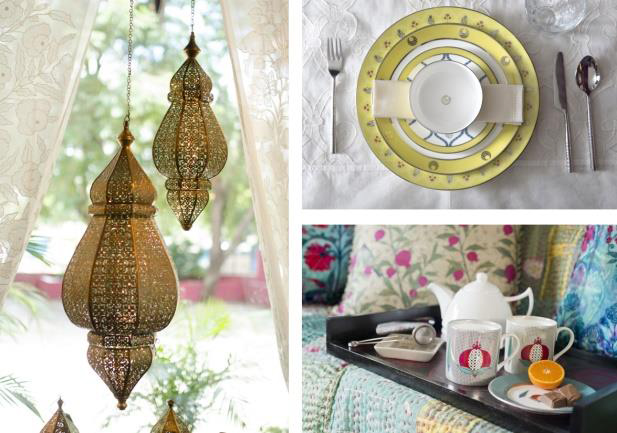 (L-R) Diva Lanterns, Silvermoon Place Setting, Anar Paradis Mugs
Good Earth, the leading Indian design house will be a supporter of the V&A's autumn exhibition The Fabric of India, opening 03 October 2015 – 10 January 2016.
Setting new standards across the globe in stylish luxury retail, Good Earth have become known the world over for their heritage crafted products ranging across furniture, aromatherapy, lifestyle products and dinnerware.
The sponsorship of The Fabric of India exhibition will coincide with Good Earth's UK launch, following the opening of their online web boutique in the UK and securing a Selfridges pop-up in London from October to Christmas.
Good Earth designs will also be on sale in the V&A Shop as part of the V&A's India Festival. Products from ETERNAL KASHI: Colours & Weaves of Banaras – Good Earth's Design Collection of 2015–2016 – will be available to UK consumers for the first time.
Since opening in Mumbai in 1996, the last two decades have seen Good Earth grow into a cult brand recognised for their crafts-focused approach to luxury design and reviving the authentic skills of the crafts communities of India. Their celebration of the heritage of India and support of traditional crafts means they are a fitting supporter of the exhibition and understand the story the V&A is trying to tell.
"We are delighted at the opportunity to support this incredible exhibition at the Victoria and Albert Museum," says Simran Lal, the CEO and driving force of Good Earth. "Given that our ethos is rooted in the culture of India and its crafts communities, we are proud to support The Fabric of India exhibition. India's textile heritage is displayed in the application of traditional Indian craftsmanship, something that we ensure is present in all Good Earth products, where the process of creation builds a story and journey into each design."
The V&A's Fabric of India will be the first exhibition to fully explore the incomparably rich world of handmade