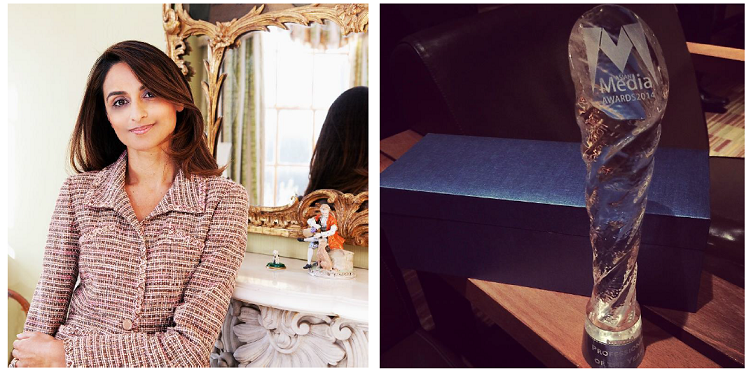 Curzon PR's Founder and Managing Director, Farzana Baduel, has been awarded the Media Professional of the Year Award at this year's Asian Media Awards, held on Tuesday 28 October at the Hilton Deansgate Hotel in Manchester. Founded in 2009, Curzon PR is a London-based strategic public relations and digital communications agency working across arts, culture, business and policy in growth markets.
"It is an honour and a pleasure to be awarded Media Professional of the Year," says Farzana Baduel, MD of Curzon PR. "I established Curzon PR five years ago with the intention of building a PR company that would create innovative and strategic campaigns. Receiving this award is a touching recognition of our achievement and growth."
The Asian Media Awards recognise the strength and depth of the Asian and mainstream media industry in the UK and are dedicated to highlighting the talent, drive and innovation of those nominated. Their Media Professional of the Year award recognises an individual who has maintained high creative standards whilst remaining innovative and original.
Baduel has nurtured Curzon PR since the business' inception into a leading media agency, representing international government projects and corporates listed on the New York Stock Exchange. Baduel has worked with Presidents, ministers, leading business personalities, philanthropists and cultural influencers.
Baduel is a regular contributor to the Guardian, Hello! Pakistan, Business Today and the BBC and is the Editor-at-large for Epicurean Life, a quarterly luxury lifestyle magazine stocked in Harvey Nichols and throughout luxury London hotels. She also writes regular content for her personal branded blog, FarzanaBaduel.com, covering topics through PR, marketing and journalism.
Under Baduel's direction, Curzon PR has achieved excellent results for campaigns including the Oscar-winning documentary, Saving Face and the Arts Council-backed initiative, Creative Industry Finance.