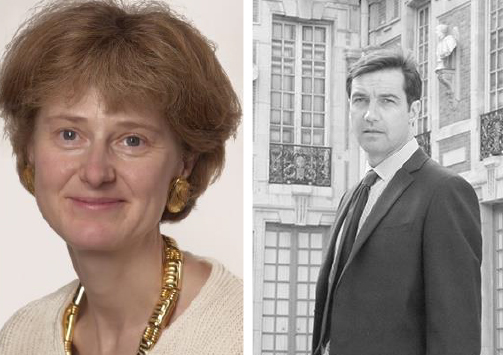 ArtBahrain, the much-awaited international art fair in the Kingdom of Bahrain, is excited to announce three appointments to aid the inaugural art fair. Middle East Art Consultant Janet Rady is now the Head of the Speakers Panel and Education Programme, Renaud Siegmann is Head of VIP Relations and Dr. Alka Raghuvanshi is the Communications Editor.
The trio, who are revered in the art world, have an expert knowledge of Middle Eastern and global art, joining the ArtBahrain team to provide support for the upcoming art fair that will play host to 200 international art collectors, 2,000 VIP clients and approximately 10,000 visitors. Janet Rady is a fine art consultant with over 20 years' experience in international art markets; she currently represents a wide range of cutting edge Contemporary Arab and Iranian artists whose work references the Middle East. Rady is an active advocate for the boom in Middle Eastern arts.
Renaud Siegmann, a former arts journalist and architecture critic, brings a wealth of knowledge in international art markets after 15 years of experience writing about global art. Siegmann's most relevant role was the Commissioner General of Marrakech Art Fair in 2010.
Dr. Alka Raghuvanshi is India's first trained art curator; a passionate advocate of all forms of art, she has been actively involved in their propagation. A writer, artist, journalist, curator, she has left indelible marks as the art world's most proactive participant. Under the patronage of Her Royal Highness Princess Sabika Bint Ibrahim Al Khalifa, Wife of the King of Bahrain and President of the Supreme Council for Women and a patron of the arts, ArtBahrain is a celebration of a history and culture rooted in artistic expression.
The art fair is designed to showcase the very best the country has to offer, and bring the best of the international arts world to Bahrain.Kaneka Subberwal, Co-founder of ArtBahrain says, "It is wonderful to have Janet, Renaud and Dr Raghuvanshi on board with us at ArtBahrain. All three have a world-class depth and knowledge of Middle Eastern culture, I am confident this can help stimulate ArtBahrain further as the leading international platform for artists in the Middle East and across the globe."
The event is set to be a culminating point for artists, art collectors and art lovers. Internationally minded, the art fair will serve as a platform where artists and galleries from around the world will share space, ideas and inspiration with local artists.
ArtBahrain will run from 13 – 16 October 2015.
Notes to Editors
ArtBahrain
Held under the patronage of Her Royal Highness Priness Sabkia bint Ibraham Al Khalifa, Wife of the King and President of the Supreme Council for Women, ArtBahrain is an internationally minded art fair that will act as platform to share the Bahraini artistic perspective with the rest of the world and to bring the world to Bahrain. It is organised by Pico International Bahrain and curated by Art Select. The first edition of ArtBahrain will take place from 13-16 October 2015.
Web: www.art-bahrain.com | Facebook: ArtBahrain | Twitter: @art_bahrain
Janet Rady
Janet Rady is a Fine Art Consultant with 20 years' experience of the international art market, including leading auction houses and major commercial galleries. She is a member of the Arab British Chamber of Commerce and sits on the Advisory Council of Caravan Arts. Her clients include art advisors and interior designers from the UK, USA, Europe, Egypt, Lebanon, UAE, Qatar and Iran, and she has also facilitated the placement of works in institutions such as the British Museum, V&A, Metropolitan Museum of Art, NYC and LACMA.
Renaud Siegmann
With 15 years of experience in the art market, Renaud Siegmann is now in charge of a private collection of contemporary art in Switzerland. Before taking over these responsibilities, he was Commissioner General of Marrakech Art Fair in 2010 and 2011. publishing specialist, he has collaborated in the creation of the Moroccan art magazine Diptyk. He started his career as an editor at Artcurial (1994-1998) for his magazine created by L'Oréal Paris. After that, it became independent curator for UNESCO in Paris (1998-2001), and cultural engineer for the Scottish Executive in Edinburgh (2001-2004). Siegmann is also journalist of art for the Gazette Drouot
International.
Dr Alka Raghuvanshi
Dr. Alka Raghuvanshi is India's first trained art curator, having trained at the Goldsmiths College, London and the Museum of Modern Art in Oxford. She has created and designed nearly 20 major exhibitions both in India and abroad. A keen painter herself, her solo exhibitions drew valued response and her works formed part of some very important shows both at the National and International level. A senior columnist and author, she has been on the Editorial Teams of the Indian Express, The Times of India, Pioneer and The BBC, where she consistently wrote to cover the entire spectrum of the Arts.
Participating galleries
– Al Riwaq
– Hend Gallery
– Busaad Art Gallery
– Amina Gallery
– Albemarle Gallery
– Arabian Collections Gallery
– Marsam Mattar
– Samer Kozah Gallery
Brief Agenda
Tuesday 13 October
0900: Press Briefing
0930: Press Tour
Wednesday 14 October
0900: Press Briefing
0930: Press Tour
Featured artists
– Sacha Jafri
– Nja Mahdaoui
– Satish Gupta
– Sujata Bajaj
– Ugo Nespolo
– Matter Bin Lahej
– Jamal Abdul Rahim
Thursday 15 October
0900: Press Briefing
0930: Press Tour
Friday 16 October
0900: Press Briefing
0930: Press Tour