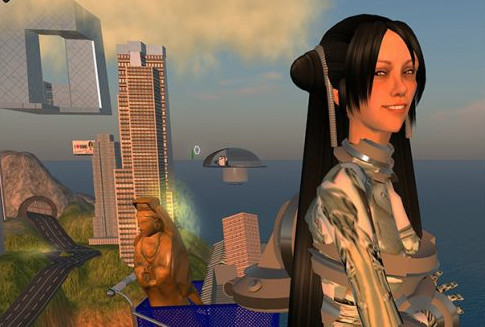 Bahrain's second contemporary art fair, Art Bahrain Across Borders (ArtBAB 2017), to be held at the Bahrain International Exhibition and Conference Centre from 22-26 March under the patronage of Her Royal Highness Princess Sabeeka Bint Ibrahim Al Khalifa, is set to wow visitors with a unique video installation, embracing over half of the exhibitor hall, and showcasing thirty-two international art videos alongside excerpts from Bahraini documentaries.
Like a forest of moving imagery, the 'Floating World' installation will feature thirty-two large scale suspended projections – 6 meters wide – screening video films by internationally renowned artists, such as Marcel Dzama (Canada), Cristina Lucas (Spain), John Stezaker (UK), Beat Streuli (Switzerland), Gillian Wearing (UK), Ming Wong (Singapore), Maha Maamoun (Egypt), Flo Kasearu (Estonia), Marko Maetamm (Estonia), Nilbar Gures (Turkey), Ebtisam Abdulaziz (Sharjah), Raqs (India), Cao Fei (China), Neha Chosky (India/USA), Jan Toomik (Estonia), Iv Toshain (Bulgaria), Michel Francois (Belgium), Graham Gussin (UK), Alice Cattaneo (Italy), Dean Kelland (UK), Shi Jong (China), Shimabuku (Japan), Fiona Banner (UK) and Cornelia Parker (UK).
Jonathan Watkins (Director of the Ikon Gallery, Birmingham and Chairman of artist selection, ArtBAB International Selection Committee) with support from Alistair Hicks (former Senior Curator at Deutsche Bank for nearly twenty years, author of The Global Art Compass (2014) and a member of the ArtBAB International Selection Committee) will be curating this video exhibition. Jonathan Watkins, Chairman of artist selection, ArtBAB International Selection Committee, says:
"The idea for Floating World was inspired by Bahrain, and more specifically by the venue itself. The BIECC is an extraordinary place. Vast in size, with windows and skylights that can be easily covered, it's the perfect environment for large scale video projections. A forest of moving images, we're turning the fair itself into unforgettable artistic experience; an immersive event like no other. It's very exciting."
"Floating World promises to be a key attraction at ArtBAB 2017. Alistair and I are thinking of it as a sea of moving imagery that combines international artist videos with Bahraini documentaries. It is an intriguing foil for the ArtBAB exhibition space which entails a dedicated Bahraini art pavilion, a gallery arena, individual artist stands and a merchandise section with cafes. We are also inviting some of the international artists taking part in Floating World to participate in the educational arts program, Talks@ArtBAB, which will be a vital part of the fair."
Ms. Kaneka Subberwal, Founder of Art Select and Fair Director of ArtBAB 2017 says:
"We wanted to bring something new to the ArtBAB fair this year, something that would serve to further merge the global arts scene with its local counterparts and the Floating World installation achi eves just that. It is a moving theatre that combines the local and global arts worlds; it is a visual stimulant for visitors where they can get a rounded glimpse of what is happening in the global arts world while also feeling the local artistic pulse that is so dominant in Bahrain".
'Art Bahrain Across Borders' 2017 (ArtBAB 2017) will be held under the Patronage of Her Royal Highness Princess Sabeeka Bint Ibrahim Al Khalifa, wife of His Majesty the King, from the 22 – 26 of March 2017 at the Bahrain International Exhibition & Convention Centre.
The fair will host acclaimed artists and galleries from all corners of the world and has been designed to embrace and highlight excellence in the local arts sector while uniting the local and global art communities and providing a stage for learning, engagement and the exchange of ideas. ArtBAB 2017 is spearheaded by Tamkeen, Bahrain's semi-government arm mandated to drive private sector growth, and will be managed and executed by international art investment and consultancy firm Art Select (a brand of Art and Spice).
Dr Ebrahim Mohammed Janahi, Chief Executive of Tamkeen says:
"Tamkeen believes that the art sector has gained importance as an engine of economic growth, not only locally but across the region. We want to support this sector through initiatives such as ArtBAB, and we hope to steer the arts sector into new levels. The aim is to inspire the local and regional talent and promote art education and skills development by bridging our local artists with their regional and international counterparts, encourage collaborations and foster learning and development from the exchange of ideas with renowned names in the art field." The strategic partners for ArtBAB 2017 are Gulf Air, the Bahrain Economic Development Board, the Bahrain Tourism and Exhibition Authority, the Bahrain Authority for Culture and Antiquities, the Bahrain Airport Company and Batelco.
About Tamkeen:

Tamkeen is a semi-government organisation in Bahrain established in 2006 under Law Number (57) as part of the country's national reform initiatives, with the task of making the private sector as the key driver of sustainable economic development.
Underpinned by its 3 strategic pillars – enhancing quality, serving customers, and achieving results – the organisation provides an integrated range of programmes to create a solid foundation for a modern economy – such as SME financing, skills training, and entrepreneurship.
At the same time, these programmes address key challenges facing Bahrainis and businesses in the private sector at various stages of their development – from start-ups to mature companies, and from students to senior executives.
To date, Tamkeen's programmes have served more than 130,000 Bahrainis and businesses. More information available at www.tamkeen.bh
Or contact us through our official channel (TamkeenBahrain):
http://www.facebook.com/TamkeenBahrain
http://twitter.com/TamkeenBahrain
http://www.youtube.com/TamkeenBahrain
http://www.linkedin.com/company/tamkeen
http://instagram.com/TamkeenBahrain
About ArtSelect
ArtSelect is a unique initiative launched on the strength of a private passion by its founder and owner Kaneka Subberwal, which today is a strong and successful international business format.
The hosting of high calibre exhibitions, together with providing a platform for emerging artists has given ArtSelect a definite edge in making art more accessible, thereby strengthening its association with clients from various cities including Dubai, Muscat, London, and Bahrain. The art exhibited ranges from established masters to emerging talent from India, Pakistan and the Middle East.
The ArtSelect team endeavours to position itself as a valuable resource for a substantial range of quality art. And finally to advise, consult and assist clients in the significance of building private and corporate collections.